What to Cook?
It can be very daunting trying to come up with fast, healthy and satisfying meals day after day. Whether you are feeding a flock or just yourself, it's easy to get into a rut and become bored with your current rotations and end up eating less than healthy meals.
We're here to help! We've compiled a list of our team's favorite fall recipes that are easy, delicious and will keep you on your plant-based path. Try these recipes and give your taste buds a boost!
Zoe's Pick:
Maple Roasted Fall Vegetables
"One of my all-time fall favorites is this simple, maple-roasted veggie dish (the hardest part is cutting all the veggies :)"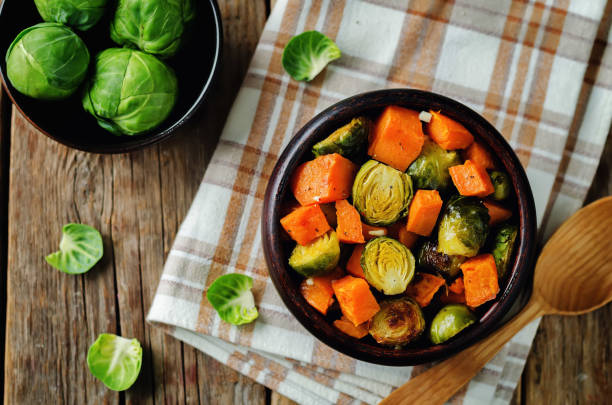 Ingredients
1 1/2 pounds brussels sprouts, trimmed and halved
1-pound parsnips, cut into small chunks
1-pound turnips, cut into small chunks
2 medium/large sweet potatoes, cut into small chunks
1/2 cup maple syrup* (if you don't want as much sugar, use 1/4 cup maple syrup and 1/4 cup water)
1/2 Tablespoon rosemary
1/2 Tablespoon salt
1/2 Tablespoon pepper
Directions
Preheat the oven to 400 degrees F.
Line two large baking sheets with parchment paper.
Combine the vegetables and other ingredients in a large bowl, mixing well to ensure that all vegetables are equally coated with the maple syrup and seasoning (adjust amounts as necessary).
Divide vegetables between the two baking sheets and roast for 30-45 minutes, stirring occasionally throughout and removing when they are golden brown.
Serve as a delicious side, over a salad, or have them with quinoa and chickpeas as a main dish.
Tina's Pick:
Autumn Gold Squash Soup
"This Moosewood Restaurant recipe comes out such a beautiful golden color and the tomato and orange juice keeps it from being too sweet."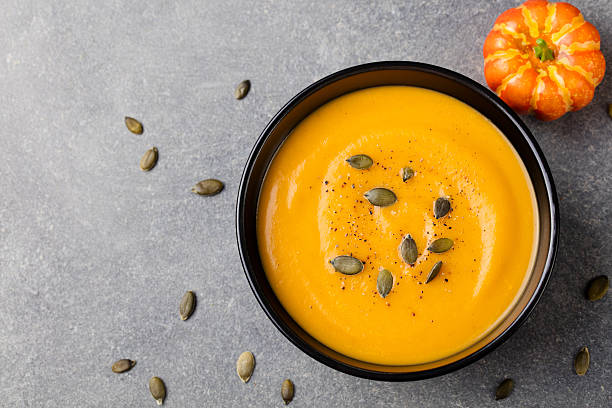 1 medium to large butternut squash (about 2 cups cooked pulp)
1 large Spanish onion, chopped (about 3 cups)
2 tablespoons vegetable oil
1/4 teaspoon nutmeg
1/4 teaspoon cinnamon
1/4 teaspoon dried thyme
2 bay leaves
1 medium carrot, diced
2 celery stalks, chopped
1 1/2 cups water
11/2 cups tomato juice
1 cup apple juice
1 cup orange juice
Salt and ground black pepper
 Directions
Bake or boil the squash. To bake, halve the squash and scoop out the seeds. Place the squash halves cut side down on an oiled baking sheet and cover loosely with aluminum foil. Bake at 350 degrees until tender, about one hour. Scoop out the pulp and discard the skin. To boil, peel the squash, halve it, and scoop out the seeds. Cut it into chunks and place them in a saucepan with water to cover. Bring the water to a boil and cook until the squash is tender, about 15 minutes. Drain and reserve the liquid.
Meanwhile, saute the chopped onion in the oil with the nutmeg, cinnamon, thyme, and bay leaves until the onion is translucent. Add the diced carrot and celery and the water (if you boiled the squash, use the reserved liquid). Cover and simmer until the carrots are tender. Remove the bay leaves.
In a blender or food processor, puree the cooked squash, the onion carrot mixture, and the juices in batches. Gently reheat the soup. Add salt and pepper to taste.
Sam's Pick:
Almond Apple Quinoa Salad
"I love this tasty salad as it reminds me of apple pie, so, yum!  And I'm always happy when I can eat more spinach."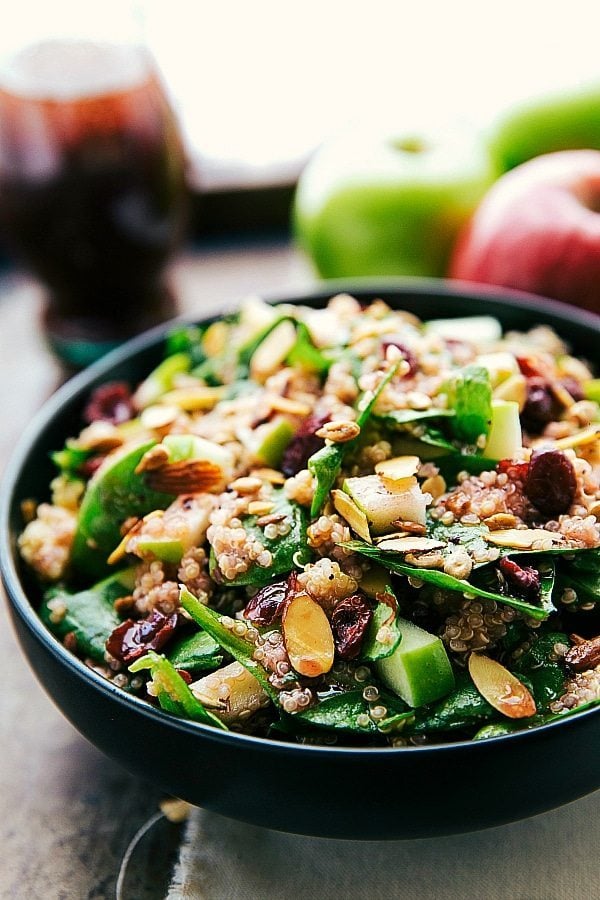 Ingredients
1/2

 

cup

 

quinoa

1

 

cup

 

vegetable broth, or water will work

1/3

 

cup

 

sliced almonds

2

 

tablespoons

 

sunflower seeds

3

 

cups

 

fresh spinach

1/3

 

cup

 

dried cranberries

1

 

Granny Smith apple

 

or favorite variety of apple

1

 

teaspoon

 

lemon juice
Dressing
2 tablespoons

olive oil

1/4

 

cup

 

raspberry wine vinegar

1-2

 

tablespoons

 

maple syrup

2

 

tablespoons

 

seedless raspberry jam

2

 

teaspoons

 

dijon mustard

1/4

 

teaspoon

 

onion powder

Salt and pepper

 

optional
Directions
Rinse your quinoa.

In a small pot combine the quinoa and vegetable broth or water.

Follow package directions to cook the quinoa.

Meanwhile, add the sliced almonds and sunflower seeds in a single layer to a completely dry skillet (don't add any oil) and place on medium-high heat (don't want it too hot or they will burn). Stir the nuts and seeds every 15 seconds for about 1-2 minutes or until the color slightly darkens and they start to smell good. Watch these carefully as they can go from perfectly toasted to burned quickly!

Chop up the apple and toss it with the lemon juice.

Remove the quinoa and allow to completely cool.

Mix together the spinach, dried cranberries, chopped apple, and completely cooled quinoa.

Toss with the dressing and top with the toasted almonds and sunflower seeds.

To make the dressing: Combine all of the ingredients in an immersion blender or small food processor. Start with 1 tablespoon of maple syrup and add more if needed.
Barbara's Pick:
Roasted Cauliflower with Charissa Spice
"I use leftovers in other dishes like quinoa or vegetable soup. I just add it to the soup at the end since it is already cooked."
Ingredients
Whole cauliflower
Charissa Spice: choose from "Regular" or "With a Kick".
Directions
Heat oven to 350 degrees.
Cut off the outer leaves of cauliflower and discard.
Rinse off well, scraping off any brown spots and cut into small florets.
Rub 1 TB spice all over cauliflower. It will stick well with the excess water from rinsing.  Use more or less rub depending on how spicy you like it.
Spread on roasting pan and put in oven for 15-20 mins, no oil needed.
Peggy's Pick:
Loaded Veggie Tikka Masala
"Fall recipes; what fun!  I've been making this Loaded Veggie Tikka Masala. Delish!"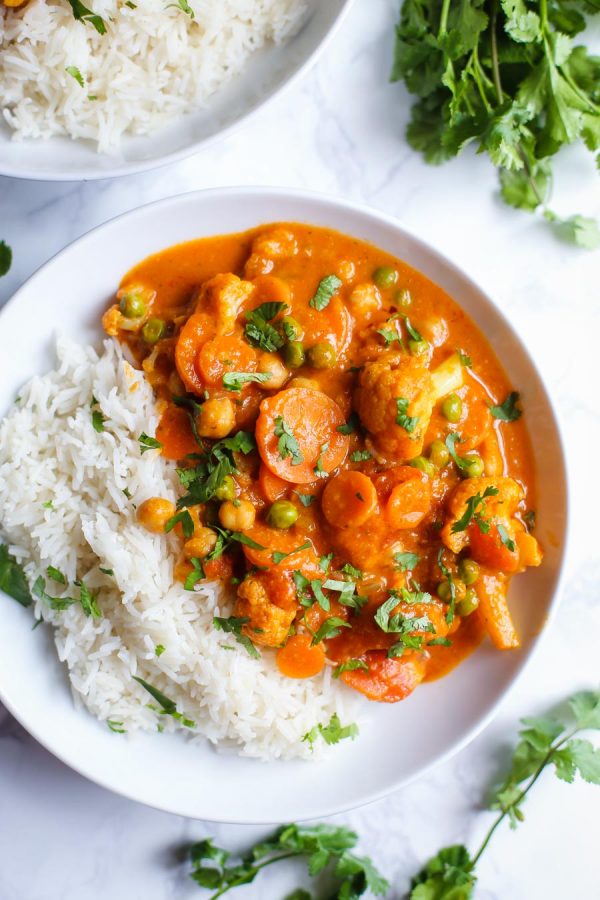 Ingredients
Large yellow onion (1/2 goes in sauce in blitzed sauce, 1/2 is finely chopped)
2 cloves of garlic
1 inch of ginger, peeled
10 sprigs of fresh cilantro (plus more for serving)
1/2 tablespoon walnut oil (more polyunsaturated fatty acids than olive oil)
1/2 teaspoon of cumin
1/2 teaspoon of turmeric
1/4 teaspoon of ground cinnamon
1 teaspoon of paprika
1 teaspoon of salt (optional)
1 1/2 teaspoons of garam masala
1 14.5 oz can no-salt added diced tomatoes
1 15 ounce can of (no-salt added) tomato sauce
1 small container of almond yogurt, roughly 5 ounces
1 cup almond milk
1/2 head of cauliflower, chopped into bite sized pieces
3 large carrots, peeled and finely chopped
1 15 oz can of chickpeas, drained and rinsed
1 cup of frozen peas
Optional for serving: chopped cilantro, extra yogurt, basmati rice cooked
Directions
In a food processor, combine half of the onion, garlic, ginger, cilantro stalks, and  1/2 of the oil. Blitz until fully combined about 1 minute. Set aside.
In a large skillet, heat the remaining oil over medium heat. Add in the chopped onion and spices, stir to combine and cook gently for 10 minutes.
Into the skillet, add the tomatoes, tomato sauce, yogurt, HALF of the almond milk and the blitzed onion and cilantro sauce. Cook for an additional 5 minutes over medium heat.
Add in the cauliflower and carrots and bring to a simmer. Simmer for 20 minutes.
Once the veggies are tender, add in chickpeas, frozen peas and the remaining almond milk. Stir to combine and let cook for 5 more minutes or until peas are fully heated through.
Serve with rice and (optional) a bit more cilantro leaves and yogurt.
Jenn's Pick:
Crockpot Applesauce
"This is one of my fall faves! I've been making it for years and it is so simple. It is so delicious and it makes your house smell amazing."
Ingredients
1/2 cup water or apple cider (I use apple cider)
10 apples, quartered (You can peel them, but I don't as apple peel has great nutritional benefits. I love to use Honeycrisp and Zestar apples for this, but use your favorites.)
1 teaspoon of lemon juice, to prevent browning
1 teaspoon of cinnamon or 2 common sticks and a little fresh ground nutmeg (add spices in the last half hour of cooking.
Directions
Add apples and cider or water and lemon juice to the crock-pot. Cook on low all-day or overnight. (I watch This is Us, so I only use the crock pot during the day when I'm awake. 😉
In the last 1/2 hour, add: 1 tsp. cinnamon OR I add two cinnamon sticks and a little fresh ground nutmeg when I add the apples, I love it this way.
If you like chunky applesauce, leave it this way. I like it super smooth so I put it in the Vitamix (or blender) on low for a few seconds.
"If you like your applesauce sweeter you can add some maple syrup or natural sweetener of choice. I love the taste of unsweetened applesauce. This is delicious warmed up in a mug as a snack on a chilly evening or added to oatmeal with a dash of apple pie spice for breakfast. It keeps in the fridge for about two weeks and freezes well."
Michele's Pick:
Pumpkin Pancakes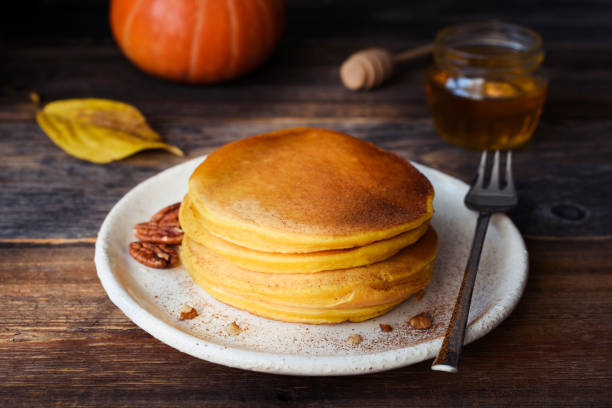 Ingredients
2cups rolled oats
1/2cup almond or other nondairy milk
1cup pumpkin puree (can also use sweet potato)
1tsp pumpkin pie spice
1tsp cinnamon
1 tsp vanilla extract
1 TBS ground flax
2 TBS apple cider vinegar
2 TBS maple syrup or agave
1+½TBS baking powder
½ tsp baking soda
optional additions: chocolate chips or pecans
Directions
Put all ingredients in blender and blend until just mixed.
Adjust liquid if too thick.
Let sit for a few minutes before pouring onto hot griddle.